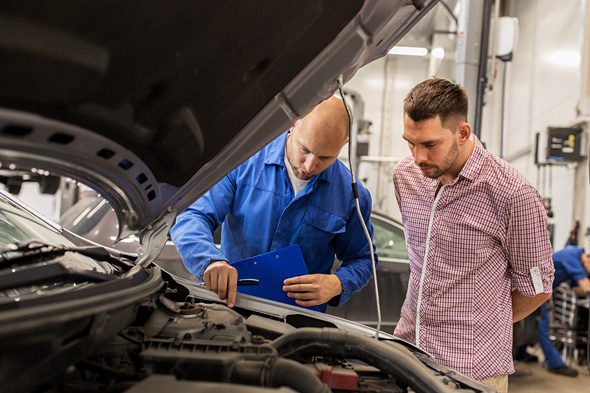 While many people use the term "lemon" to describe their vehicle, the term has a very specific meaning. State lemon laws generally refer to recently purchased or leased vehicles with defects that the manufacturer or authorized dealership cannot correct despite a reasonable opportunity. However, the exact nature of lemon laws differs from each other and the federal Magnuson-Moss Warranty Act. Lemon laws provide a leveling of the playing field to put consumers on a more comparable footing with large national vehicle manufacturers. However, consumers must understand what constitutes a lemon to take full advantage of the laws.
Consultation to Determine If You Have A Lemon
The lemon law firm of Stern Law, PLLC offers a free case evaluation so that we can gather the relevant facts, review your purchase contract and repair orders, and explain your lemon law rights. If you are not sure if your vehicle qualifies as a lemon, Ken Stern can assess your situation and advise you regarding your rights. Call lemon law attorney Ken Stern at 844-808-7529 or submit a case evaluation form.
Lemon Laws and Related Consumer Protections
While a range of laws exists that consumers might rely on to pursue legal remedies for their chronically defective vehicle, state lemon laws typically offer the most efficient and effective method for obtaining compensation. Lemon laws are powerful statutes that specify when the manufacturer has breached its written warranty. The statute also removes barriers to seeking court relief by authorizing an attorney fee award to consumers who prevail.
In simple terms, any nonconformity, defect, or a combination of defects that substantially impair the safety, use, or value of a new vehicle, which is not corrected within a reasonable number of attempts or a specified period, constitutes a lemon. Lemon laws entitle consumers to a refund of the purchase price or a new vehicle.
State-Specific Lemon Laws
All fifty states and the District of Columbia have a lemon law of some sort though the terms, scope of protection, and eligibility requirements are not uniform from state to state. The lemon law in most states authorizes a consumer to receive a vehicle replacement or refund from the automaker if a substantial defect cannot be repaired in four attempts. These consumer protection statutes also deem a vehicle to be a lemon if it is out of service for thirty days within the first 12 or 24 months or 12,000-18,000 miles.
Safety defects are treated differently under most state lemon laws. Because of the risk of personal injury or wrongful death, vehicle manufacturers typically only receive two opportunities to fix the issue.
A number of factors generally dictate a consumer's success under a state lemon law: (1) legal representation by an experienced lemon law attorney; (2) keeping good records regarding communication with the vehicle manufacturer and dealership regarding the problem; (3) making sure vehicle repair order forms are accurate; and (4) compliance with notice or arbitration requirements.
The Magnuson-Moss Warranty Act
This federal statute protects consumers who purchase any product priced over $25 if the item came with a written warranty. The law is drafted to prohibit manufacturers from saddling consumers with grossly unfair warranties. The statute also removes financial obstacles to pursuing a lawsuit against a vehicle manufacturer by including an attorney fee shifting provision. This provision permits a consumer who prevails on a claim under this law to make the defendant pay for his or her attorney fees.
Uniform Commercial Code (UCC): Consumers can use the UCC in all fifty states and the District of Columbia. The law pertains to contracts involving the sale of goods, which includes motor vehicles. This statute also entitles consumers to the right to a replacement vehicle or refund. The disadvantage to using this law is that the UCC provides no definition. This lack of clarity means that the judge must decide whether the manufacturer must furnish a new vehicle.
Importance of Recordkeeping When Pursuing a Lemon Law Claim
Because lemon laws entitle the manufacturer to a certain number of attempts to fix a vehicle defect, the content of certain documents will be extremely important. When you bring your vehicle into the authorized dealer for repairs, you need to make sure your complaints are all fully noted. The dates the vehicle is dropped off and picked up, as well as the mileage, also must be accurate. While Ken often can obtain these documents by subpoena, the best practice is to keep all repair orders. We also advise keeping a journal and calendar of all appointments and correspondence with the manufacturer and dealer.
Got a Lemon? – Speak to a Lawyer Today
We welcome the opportunity to discuss your situation and review your purchase agreement and repair order forms. If you still have questions, you can contact us for answers about your unique circumstances. Call Ken Stern at Stern Law, PLLC at 844-808-7529 or submit a confidential case inquiry form today.

If you have other questions about lemon law claims, we welcome the opportunity to talk to you at Stern Law, PLLC. Call us today at 844-808-7529 or submit a confidential case inquiry form today.
Lemon Law Information
Click to find out more about...